If you want more stories that play with your emotions like Your Name, then this article is for you. Keep reading for more good suggestions similar to Your Name.
Most of the suggestions have strong emotional stories. Stories that make you feel both happy and sad. Stories you will remember.
Description:
One day, the two strangers Mitsuha Miyamizu and Taki Tachibana, find their fates twisted together in a strange bond.
Ther consciousness swap bodies.
When Mitsuha wakes up in Taki`s body she thinks its a pleasant dream. Going to high school in Central Tokyo and having a part-time job, it what shes always wanted.
Taki finds himself in a girl's body. Believing it is a realistic dream, he does what every teenage boy would do in his situation. Later when he goes about his day attending a countryside high school and doing as he pleases.
When Mitsuha and Taki discover that their experiences are no dreams they start to search for each other.
Can they learn to live like this without drastically impacting each other's lives? Can they find each other? And can they overcome an upcoming dramatic event by working together?
Mitsuha and Taki have their lives woven together in a mystical fabric held together by fate and circumstance.
Animes like Your Name.
Keep reading for more anime suggestions similar to Your Name. Most of the suggestions should have many similarities in common.
A Silent Voice

As an elementary school student, Shouya Ishida was a bully.
It all came to a top when the deaf Shouko Nishimiya transfers into his class. The whole class thoughtlessly bully her for fun, and Shouya is the worst.
When Nishimiya's mother notified the school, Shouya is singled out and blamed for everything done to her.
When Nishimiya transfers school Shouya is left as the new target for by his classmate bullies. He is heartlessly ostracized all throughout elementary and middle school, while teachers turn a blind eye.
Now, at the end of his high school years, Shouya is still plagued by his wrongdoings as a young boy. Sincerely regretting his past actions as a bully, Shouya sets out on a journey of redemption.
A Silent Voice is a heart twisting story about Shouya's reunion with Shouko and his sincere search for redemption.
Is A Silent Voice good?
A Silent Voice is an amazing anime.
It's about some hard topics, and it goes about telling them in a good way. It could be a little better with some characters. Fleshing them out a little. But it's still an excellent anime that should be watched.
Why is A Silent Voice recommended?
A Silent Voice is also beautifully animated with a strong emotional story. It also deals with romantic relations between people on the cusp of adulthood.
A Silent Voice dos do not have supernatural elements like Your Name. It also differs in that redemption and regret is a strong part of its story. It deals with some darker themes like bullying.
If you want another deeply moving story like Your Name then A Silent Voice is an excellent choice.
Violet Evergarden
Violet Evergarden was raised from a young girl to be an elite soldier. She was a soldier in The Great War that lasted four long years and fractured the continent in two. At the ended of the war, Violet was hospitalized and maimed.
Still recovering from her wounds Violet starts working at CH Postal Services. There she begins working as an Auto Memory Doll, transcribing people's thoughts and feelings into words on paper.
Working as an Auto Memory Doll, Violet is taken on an adventure of self-discovery and connection people.
Is Violet Evergarden good?
Violet Evergarden is a good slice of life drama. It has very good visuals and a good story. Violet is a very interesting character, but the other side characters can be a little flat.
Why is Violet Evergarden recommended?
Violet Evergarden is a series and not a movie, but it has some similarities with Your Name. One of the main similarities is that it also has a beautiful and realistic art design with emotional scenes.
The stories are not very similar, but Violet Evergarden has the same emotional engagement with a sense of loss. It also has a main character that is searching for a loved one.
Steins;Gate

The eccentric mad scientist Okabe, and his colleagues have banded together to form the "Future Gadget Research Laboratory". They discover that their Phone Microwave, which transforms bananas into oozing green gel, can also send text messages to the past. And the words they send can affect the flow of time and have unforeseen, far-reaching consequences.
Is Steins;Gate good?
Steins;Gate is one of the better animes that is ever created. It`s an must watch anime for all anime fans out there, even people that generally do not like animes might like this one.
Why is Steins;Gate recommended?
My Name and Stains;Gate both have time travel themes.
Stains;Gate also has good character interactions and romantic relationships. It has a complex story full of twists and turns, comedy, and strong emotions. They both have strong emotional endings that leave you wanting more.
If you like Your Name then you will not go wrong by watching Stains;Gate.
The Girl Who Leapt Through Time

Makoto Konno is a high school student who can leap through time.

In between enduring educational pressure and having fun with her best friends, Makoto plays around with her power.
However, Makoto soon learns the hard way that every choice has a consequence. Time is a lot more complicated than she thought, and she has to race against it to set things right again.
Is The Girl Who Leapt Through Time good?
The Girl Who Leapt Through Time (Toki wo Kakeru Shoujo) is a good anime. It's not among the best anime movies, but it's still absolutely worth watching.
Why is The Girl Who Leapt Through Time recommended?
The Girl Who Leapt Through Time (Toki wo Kakeru Shoujo) also has supernatural elements with time manipulation. It is also a strong emotional show with some romantic elements in it.
The Girl Who Leapt Through Time is a good suggestion for something to watch if you want more like Your Name.
ERASED
Satoru Fujinuma is a detached 29-year-old struggling manga artist.
Satoru has the supernatural ability to go back in time before someone dies to prevent it. He calls his ability Revival.
But when Satoru is wrongfully accused of murdering someone close to him he is sent back 18 years in the past. Only to find himself as a grade-schooler again.
Soon, he realizes that the current murder may be connected to the abduction and killing of one of his classmates.
This is his chance to make things right. Both in the past and the present.
Is ERASED good?
ERASED is an OK anime. If your looking for a new anime and want a mystery drama with time travel elements then thin might be for you.
Why is ERASED recommended?
ERASED (Boku dake ga Inai Machi) also has a main character that is trying to save someone, and doing it by using time-travel. It also plays with your emotions and creates memorable moments. It's definitely worth checking out if you like Your Name.
The Ancient Magus' Bride

Chise Hatori is a 15-year-old Japanese girl that was sold for five million pounds at an auction. She was bought by a tall masked mysterious gentleman.
The mysterious man reveals himself to be Elias Ainsworth. He's a magus.
Elias uses transportation magic and teleports them to his home, a pictures cottage in rural England. So begins Chise's story as the apprentice and supposed bride of the ancient magus.
Is The Ancient Magus' Bride good?
The Ancient Magus' Bride is a very good slice of life fantasy anime. The show is beautifully animated and has great characters. I personally found the story to be a little boring at times, but it's worth watching if you like slice of life stories and fantasy elements.
Why is The Ancient Magus' Bride recommended?
The Ancient Magus' Bride is another anime with beautiful visuals and sound. It also likes to play on your emotional heartstrings.
The Ancient Magus' Bride might be a fantasy show, but its definitely worth checking out if you like Your Name.
Weathering With You (Tenki no Ko)
Hodaka Morishima is a high-school boy who has run away to Tokyo. He gets a job as a small-time publisher as he struggles to cover his expenses. At the same time, the orphaned Hina Amano also strives to find work to sustain herself and her younger brother. Their fates are bound together when Hodaka attempts to rescue Hina from shady characters. When they decide to run away together Hodaka discovers that Hina has a hidden power. She has the ability to make the sunn come out and shine whenever she prays for it. They decide to capitalize on this, but they soon discover that power always comes with a price.
Is Weathering With You (Tenki no Ko) good?
Weathering With You is an amazing anime. The animation and music are top-notch, and the story is good too. CoMix has given out some really good animes lately, let's hope they keep it coming.
Why is Weathering With You (Tenki no Ko) recommended?
Weathering With You has the same director, same art design and the story structure itself is quite similar. The main difference is that this movie has more action in it, otherwise they are very similar.
Books like Your Name.
We have tried to add a few suggestions for books that are somewhat similar to Your Name. Having most experience in reading fantasy and science fiction books this, of course, influences our suggestions.
Dead Until Dark (Southern Vampire Mysteries #1)

True Blood has made it possible for the vampire community to reveal its existence to humans. True Blood is a synthetic blood substitute that vampires can survive on. 
Sookie Stackhouse is a twenty-something telepathic waitress from Bon Temps, a small town in Louisiana.
She saves Bill Compton, a vampire, and a Civil War Veteran, from Rattrays, a couple of drainers. They were trying to steal his blood for its accelerates healing, increases strength, and improved libido.
Sookie and Bill soon become an item, and Sookie gets dragged into the world of vampires and other supernatural beings.
Why is Southern Vampire Mysteries recommended?
Southern Vampire Mysteries is not as similar as most of the other suggestions on this list. But if you want a paranormal book with romantic elements then its worth a try. There are plenty of other books in the genre, but this is a good start.
Twilight (Twilight Saga #1) by Stephenie Meyer

When Bella Swan moves to the Forks, a small, cloudy and rainy town in Washington, she meets Edward Cullen.
Her life takes a thrilling and terrifying turn when she discovers that the beautiful Edward is a vampire.
They become lovers.
But what Bella doesn't realize is the closer she gets to him, the more she is putting herself and those around her at risk.
Deeply romantic and extraordinarily suspenseful. Twilight captures the struggle between defying our instincts and satisfying our desires.
Is Twilight Saga good?
Twilight is the first book in the Twilight Saga.
I remember I liked the books, but they are not good enough for a reread.
Why is Twilight Saga recommended?
Twilight is a paranormal romance story. Instead of time-travel, it has vampires and werewolves. The main characters in this story are also highschoolers.
TV-Shows like Your Name.
In case you want to watch something similar that is not an anime we have also included a few TV-Shows in our suggestions. Hopefully, some of these TV-Shows might be to your liking if you want more like Your Name.
Outlander

An English combat nurse from WWII is mysteriously swept back in time to the Jacobite rising in 1743.
To survive this strange and dangerous time Claire Randall end up marrying Jamie Fraser. He is a chivalrous and romantic young Scottish warrior.
A passionate relationship grows between Claire and Jamie. For Claire, this is not all roses and sunshine. She was married before she went back in time.
Claire is thorn between lowing two different people in two different lives.
Why is Outlander recommended?
Outlander also has time-travel elements and strong romantic elements. It differs from Your Name by being set back in time and being much more violent. It also has older main characters.
If you want a TV-Show like Your Name then Outlander is worth a try.
True Blood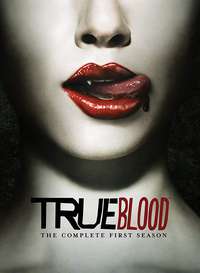 Sookie Stackhouse works as a waitress at Merlotte's, a bar in Bon Temps a small southern town in the states.
One day she meets Bill Compton, a 173-year old vampire. He stands out to her and they hit it off early on.
Vampires are outed to the world.
They try to be accepted as regular humans. A synthetic blood alternative called True Blood is their main strategy for acceptance.
Sookie`s life gets seriously complicated when she gets involved with the supernatural world. But Sookie is not an ordinary person herself either. She has the ability to read thoughts. Except for the thoughts of vampires. Witch is why Bill stood out to her when she met him.
True Blood is loosely based on the book series Southern Vampire Mysteries.
Is True Blood good?
True Bloodis an excellent TV show.
The story separates itself from the books after the first season, but that's OK. You should watch this show.
Why is True Blood recommended?
True Blood is not as similar as most of the other suggestions on this list. But if you want a supernatural show with action, drama, and some romantic elements, then it's worth a try.
Hopefully, some of our suggestions were to your liking. Most of them should be good suggestions for similar stories like Your Name.
We hope to be able to keep extending this list in the future. So come back the next time you want more like Your Name.