If you want more similar to Cradle then this article contains the best list of similar recommendations that we could come up with. Cradle is an excellent cultivation story in the veins of Chinese Xianxia/Wuxia novels. 
Most of our recommendations have strong cultivation or Xianxia/Wuxia elements to them. Cradle is strongly inside this genre, so most of the recommendations will also be in this genre.
But not all our suggestions are in the cultivation or Xianxia/Wuxia genres, some have other similarities. But most have powers that are kind of similar to cultivation.
Some of our suggestion has some interesting genre blendings. One such blend is with the LitRPG genre. Read this article you want to read what LitRPG is and get some suggestions. Another interesting genre that one of our suggestions is mixing in is Dungeon Core. Check this article to find out what Dungeon Core is and to get some good recommendations.
We have also added some suggestions from other mediums, mainly from animes. There are lots of Chinese Xianxia and Wuxia movies and TV-Shows, but none of us has much experience with them.
Description:
Life energy known as madra is the basis of civilization on the world of Cradle.
Everyone has madra inside themself.
Sacred artist level up their madra by using different forms of training and ingesting elixirs and spirit-fruits.
The common stages of madra levels a person can reach are Copper to Iron, to Jade, and then to Gold. After Gold, who knows what comes next.
Wei Shi Lindon is a member of the Silverfox Clan. They live in hidden Sacred Valley isolated from the rest of the world.
Lindon is an unsouled.
Unsouled is someone unfit to harness the power of madra. Their madra core does not have an affinity for any element. Making them unlikely to advance their madra levels.
Lindon is unwilling to accept his low status. He is determined to do everything he can to prove his worth. He is willing to risk everything to become a sacred artist.
A tragic event unfolds in the valley, an event that makes a diety takes action. This diety shows Lindon a path to advancement, a path that will take him out of the Sacred Valley.
Can Lindon capable to leave the Sacred Valley, and will he, an unsouled, be able to survive outside it?
Visit titlefindr for more recommendations like "Unsouled".
Books like Unsouled (Cradle #1)
Animes like Unsouled (Cradle #1)
Grandmaster of Demonic Cultivation
Wei Wuxian is a cultivator that experimented with the forbidden Mo Dao, also called the demonic path, during his teachings. Its a dark and dangerous energy that lies behind the demonic path.
Wei Wuxian's rise in power is accompanied by chaos and destruction, but his reign of terror comes to an abrupt end when the cultivation clans overpower him and he is killed by his closest ally.
Thirteen years later, Wei Wuxian is reincarnated in the body of a village lunatic. In his reincarnated body, Wei Wuxia is reunited with his old classmate Lan Wangji.
Together they fight demons, ghosts, and other cultivators.
Is Grandmaster of Demonic Cultivation good?
Grandmaster of Demonic Cultivation is an excellent Chinese anime. It has good art and sound.
It has a solid story with good pacing. It has some flashbacks, but they are done in a good way.
The characters are very good. They are interesting and deep.
Grandmaster of Demonic Cultivation absolutely worth watching, especially if you like cultivation stories.
Why is Grandmaster of Demonic Cultivation recommended?
Grandmaster of Demonic Cultivation is a cultivation story like the Cradle books. It has more of the classic Xianxia and Wuxia elements to it, but Cradle has lots of it too.
Wei Wuxian is not starting out as a week cultivator as Wei Shi Lindon does. And the training and cultivation parts are not as detailed.
If you like Unsouled and the Cradle series then the Grandmaster of Demonic Cultivation anime is absolutely worth checking out.
If you usually don't watch anime but like cultivation stories then it is still a good recommendation. it's worth checking out if you like Cradle.
Visit titlefindr for more recommendations like "Grandmaster of Demonic Cultivation".
Hunter x Hunter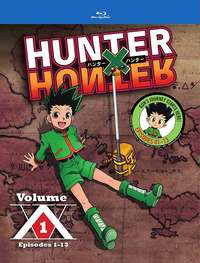 Gon is a young boy that dreams of following in his father's footsteps as a Hunter.
Hunters catch dangerous criminals, search for hidden treasures, charts new theories, and other dangerous stuff.
To become a Hunter Gon first has to pass a notorious difficult Hunter exam.
Gon set out on his path with the lively doctor-in-training Leorio, the vengeful Kurapika, and the rebellious ex-assassin Killuat.
Is Hunter x Hunter good?
Hunter X Hunter, especially the newest version, is among the best animes I have watched.
It's absolutely worth watching. But its a Shounen, so it's long.
Why is Hunter x Hunter recommended?
Hunter x Hunter has lots of training and progression, just like Cradle.
The magic system is not to similar to Cradle, but it's not too different either. Its more similar to the Jutsu and Chacra system from Naruto, but the way the progression works feel kind of similar. Just without the pills and other magical consumables to increase your strength that's in the Cradle universe.
If you like Cradle and anime then Hunter x Hunter is an excellent anime show to watch.
Visit titlefindr for more recommendations like "Hunter x Hunter".
InuYasha

A demon drags fifteen-year-old Kagome Higurashi into a cursed well in her family's Shinto shrine. She ends up 500 years in the past with a wish-granting jewel called the Shikon Jewel, reborn inside of her.
The wish-granting Shikon Jewel is the demons true target. But it ends up shattering before the demon can take full possession of it.
Kagome enlists the help of the young hybrid dog-demon/human Inuyasha to help her collect the shards before they can fall into the wrong hands.
Is InuYasha good?
InuYasha is a decent anime, but the story tends to drag on some times as Shounen animes tend to do.
If you don't like Shounen anime then its best to stay away, but if you like it and don't mind older anime then it's worth a try.
Why is InuYasha recommended?
InuYasha is like a demon hunting wuxia. It has some cultivation like elements, but not as pronounced as Cradle has. InuYasha also has more comedic elements to it.
Visit titlefindr for more recommendations like "InuYasha".
TV-Show like Unsouled (Cradle #1)
Avatar: The Last Airbender

Aang is a twelve-year-old boy and the current reincarnation of the avatar.
The avatar is the only person who can bend all for elements at the same time, fire, earth, water, and air. He is meant to keep balance in the world. A balance between humans and between humans and spirits.
Aang was born on one of the air temples among the air nomads, but he ran away and the avatar was lost for decades.
Aang has now returned, not a day older, but the world he lived in has changed drastically. He is now the last air bender, the others have been wiped out, and the world has become unbalanced.
Can Aang bring balance back to the world?
Is Avatar: The Last Airbender good?
Avatar: The Last Airbender is a really good tv show. And it actually comes from Nickelodeon of all places.
Avatar is not only for children, but adults might also find this tv show interesting.
Why is Avatar: The Last Airbender recommended?
Avatar has a somewhat similar tone to it like Cradle. Its more childish, but still kind of similar.
It has lots of training and progression in their bending power. The bending is not exactly like cultivation, but the way they strengthen it still feels somewhat similar.
If you like Cradle and don't mind watching anime aimed for a slightly younger audience, then Avatar is an excellent suggestion.
Visit titlefindr for more recommendations like "Avatar: The Last Airbender".
This list for more suggestions like the Cradle series was the best we could make. We hope you found some interesting similar suggestions in it for what to try next.
At A Fictional Universe we aim to continuously improve our suggestions, so if you in the future want more similar to Cradle then come back. We might have changed our recommendations by then.