We have created a list of recommendations for similar books like the Twilight Saga. We have also added a few TV-Shows and anime suggestions to.
Most of our suggestions for more like Twilight are teen supernatural romance stories.
Hopefully, some of them will be to your taste.
Description:
When Bella Swan moves to the Forks, a small, cloudy and rainy town in Washington, she meets Edward Cullen.
Her life takes a thrilling and terrifying turn when she discovers that the beautiful Edward is a vampire.
They become lovers.
But what Bella doesn't realize is the closer she gets to him, the more she is putting herself and those around her at risk.
Deeply romantic and extraordinarily suspenseful. Twilight captures the struggle between defying our instincts and satisfying our desires.
Visit titlefindr for more recommendations like "Twilight".
Books like Twilight (Twilight Saga #1)
The Hunger Games (The Hunger Games #1) by Suzanne Collins

Panem is a nation consisting of a shining Capitol for the wealthy surrounded by twelve outlying poorer districts.
Long ago a rebellion led by a 13th district against the Capitol resulted in its destruction. As part of the surrender terms, each of the twelve surviving districts agreed to send one boy and one girl to appear in an annual televised event called,"The Hunger Games".
"The Hunger Games" is a fight to the death on live TV. Only one survives. 
Katniss Everdeen, a sixteen-year-old girl from district twelve, ends up as the female tribute from her district. She and her male counterpart Peeta, are pitted against bigger and stronger representatives, some of whom have trained for this their whole lives.
Is The Hunger Games good?
This is the first book in The Hunger Games trilogy. These books are worth reading, not among the best, but still worth the time if you like young adult dystopian books.
Why is The Hunger Games recommended?
They are actually not that similar. One is sci fi while the other is paranormal. Twilight have vampires and werewolves while there are only regular humans in Hunger Games. However they both have a similar feel to them, only Twilight is a little heavier on the romance. They both have the same target audience, teen age girls, bean adopted into popular movie version.
Links to titlefindr.com:
Some Girls Bite (Chicagoland Vampires #1) by Chloe Neill

Merit was a graduate student until she one night was attacked by a rogue vampire.
She would have been killed if another vampire had not stepped in and saved her.
Her savor wasEthan Sullivan, the master vampire of the Cadogan House. Merit moves into their mansion and has to learn to live as a vampire while someone still is trying to take her life.
Is Chicagoland Vampires good?
The Chicagoland Vampires is an OK paranormal vampire romance book. It's not among the best in the genre, but its good enough.
If you want more in this genre then its worth reading, but if you want something fresh then you should probably avoid it. It is not unique in its genre.
Visit titlefindr for more recommendations like "Some Girls Bite".
Glass Houses (The Morganville Vampires #1)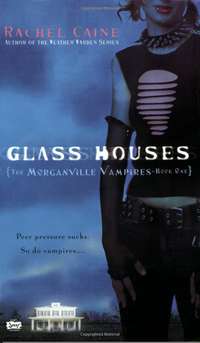 Claire Danvers is way above an averagely intelligent 16-year-old girl who has gotten advanced placement to college.
But her parents still do not allow her to go to the distant Ivy League school of her dreams, so she ends up at Texas Prairie University instead.
She moves into a house called the Glass House with three other outcast students. Goth girl Eve, rebellious Shane, and Michael, a vampire.
Is The Morganville Vampires good?
The Morganville Vampires is good for being a teenage girl paranormal series.
I did stop after a few books, but that was only because there were no more books at the time. But I have no plans of taking it up again.
Visit titlefindr for more recommendations like "Glass Houses".
Skinwalker (Jane Yellowrock #1) by Faith Hunter

Jane Yellowrock is a skinwalker
She shares her body with the soul of a mountain lion and she can take any form as long as she has some bones with DNA from the shape she wants.
Jane works as a freelance rogue-vampire hunter.
In this first book, she is hired to take care of a nasty rogue-vampire in New Orleans. When she is there she comes in contact with the vampire society and learns about the "sane" vampires. She also learns more about her own Cherokee heritage.
Is Jane Yellowrock good?
A great story and strong characters make this an excellent series.
You should read this. Absolutely worth checking out if you like these kinds of books.
Visit titlefindr for more recommendations like "Skinwalker".
Marked (House of Night #1) by P. C. Cast

Zoey is a 16-year-old girl who is marked.
Those who are marked are sent to the House of Night.
House of Night is a school where marked teenagers are sent to undergo the change to become a vampire.
Is House of Night good?
House of Night is an ok paranormal teen series. Nothing special, but worth a read if you are into books like this.
Visit titlefindr for more recommendations like "Marked".
Vampire Academy (Vampire Academy #1)

There are two races of vampires. One is the Moroi, they are alive and wield elemental magical. The other is the Strigoi, they are undead and evil.
Rose Hathaway is a half-vampire. She is a bodyguard in training for her friend Lissa Dragomir, a Moroi princess.
They go to St. Vladimir's Academy. Its a hidden boarding school for vampires. Full blood vampires learn magic and half-bloods train to be their protectors.
Is Vampire Academy good?
Vampire Academy is a good teen paranormal romance book. They are worth checking out.
Visit titlefindr for more recommendations like "Vampire Academy".
Dead Until Dark (Southern Vampire Mysteries #1)

True Blood has made it possible for the vampire community to reveal its existence to humans. True Blood is a synthetic blood substitute that vampires can survive on. 
Sookie Stackhouse is a twenty-something telepathic waitress from Bon Temps, a small town in Louisiana.
She saves Bill Compton, a vampire, and a Civil War Veteran, from Rattrays, a couple of drainers. They were trying to steal his blood for its accelerates healing, increases strength, and improved libido.
Sookie and Bill soon become an item, and Sookie gets dragged into the world of vampires and other supernatural beings.
Visit titlefindr for more recommendations like "Dead Until Dark".
TV-Shows like Twilight (Twilight Saga #1)
The Vampire Diaries

Elena and her brother Jeremy lives in Mystic Falls with their aunt Jenna. She moved in as their guardian after they lost their parents.
On Elena's first day back at school after her parent's death she meats Stefan, a mysterious new guy. What Elena dos not know is that Stefan is an old vampire.
They gradually grow closer, until Stefans`s older brother, Damon, shows up and acts like an evil bastard.
Is The Vampire Diaries good?
I remember liking Vampire Diaries at on point, but then I grew tired of the show. It is a popular show, so you should probably give it a try.
Why is The Vampire Diaries recommended?
Both Vampire Diaries and Twilight is about vampires and orientated toward teenage girls.
Visit titlefindr for more recommendations like "The Vampire Diaries".
Legacies

Legacies is a spinoff of The Vampire Diaries and The Originals. It follows a new generation of magical beings where some are the children of characters from the earlier shows.
Hope Mikaelson, Josie and Lizzie Saltzman, and Landon Kirby are the main characters. Hope Mikaelson is Klaus Mikaelson's daughter and she is a witch/vampire/werewolf hybrid. Lizzie and Josie Saltzman are the twin witch daughters of Alaric Saltzman. While Landon Kirby is something else.
The main setting in Legacies is The Salvatore School for the Young and Gifted. Its a school for vampires, witches, and werewolfs.
Is Legacies good?
Legacies is an OK show, not great, but worth watching.
If you like this kind of teen fantasy show like Teen Wolf and the Vampire Diaries then its absolutely worth watching.
I personally find Legacies better than The Vampire Diaries, but not as good as the Originals.
Visit titlefindr for more recommendations like "Legacies".
True Blood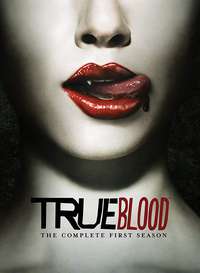 Sookie Stackhouse works as a waitress at Merlotte's, a bar in Bon Temps a small southern town in the states.
One day she meets Bill Compton, a 173-year old vampire. He stands out to her and they hit it off early on.
Vampires are outed to the world.
They try to be accepted as regular humans. A synthetic blood alternative called True Blood is their main strategy for acceptance.
Sookie`s life gets seriously complicated when she gets involved with the supernatural world. But Sookie is not an ordinary person herself either. She has the ability to read thoughts. Except for the thoughts of vampires. Witch is why Bill stood out to her when she met him.
True Blood is loosely based on the book series Southern Vampire Mysteries.
Is True Blood good?
True Bloodis an excellent TV show.
The story separates itself from the books after the first season, but that's OK. You should watch this show.
Visit titlefindr for more recommendations like "True Blood".
Anime like Twilight (Twilight Saga #1)
The Ancient Magus' Bride

Chise Hatori is a 15-year-old Japanese girl that was sold for five million pounds at an auction. She was bought by a tall masked mysterious gentleman.
The mysterious man reveals himself to be Elias Ainsworth. He's a magus.
Elias uses transportation magic and teleports them to his home, a pictures cottage in rural England. So begins Chise's story as the apprentice and supposed bride of the ancient magus.
Is The Ancient Magus' Bride good?
The Ancient Magus' Bride is a very good slice of life fantasy anime. The show is beautifully animated and has great characters. I personally found the story to be a little boring at times, but it's worth watching if you like slice of life stories and fantasy elements.
Visit titlefindr for more recommendations like "The Ancient Magus' Bride".