If you love Vampire Academy and want more like it, then keep reading.
We have created an interesting list of suggestions for more books, and other mediums, similar to Vampire Academy.
Description:
There are two races of vampires. One, the Moroi, are alive and wield elemental magical. The other, the Strigoi, are undead and evil. Rose Hathaway, a half-vampire, is a bodyguard in training for her friend Lissa Dragomir, a Moroi princess. They go to St. Vladimir's Academy, a hidden boarding school where vampires are educated in the ways of magic and half-human teens train to protect them.
If you are looking for similar recommendations to Vampire Academy then something from the following list should be to your taste. If you like Vampire Academy then some of the books or TV-Shows on this list should be to your liking.
Most have something similar in common with Vampire Academy. Vampires, paranormal themes, school setting, or aimed at a similar audience should be some of the similarities with Vampire Academy.
Books like Vampire Academy (Vampire Academy #1)
Marked (House of Night #1) by P. C. Cast

Zoey is a 16-year-old girl who is marked.
Those who are marked are sent to the House of Night.
House of Night is a school where marked teenagers are sent to undergo the change to become a vampire.
Is House of Night good?
House of Night is an ok paranormal teen series. Nothing special, but worth a read if you are into books like this.
Why is House of Night recommended?
House of Night is just like Vampire Academy in that both are set in a school for vampires.
They are also both aimed toward the same audience, teen girls.
But other demographics can also enjoy them, just saying.
If you like Vampire Academy then you should definitely check out the House of Night books, you will not go wrong.
Dead Until Dark (Southern Vampire Mysteries #1)

True Blood has made it possible for the vampire community to reveal its existence to humans. True Blood is a synthetic blood substitute that vampires can survive on. 
Sookie Stackhouse is a twenty-something telepathic waitress from Bon Temps, a small town in Louisiana.
She saves Bill Compton, a vampire, and a Civil War Veteran, from Rattrays, a couple of drainers. They were trying to steal his blood for its accelerates healing, increases strength, and improved libido.
Sookie and Bill soon become an item, and Sookie gets dragged into the world of vampires and other supernatural beings.
Why is Southern Vampire Mysteries recommended?
Sookie Stackhouse is not a high schooler, she is finished with school and work as a small-time cocktail waitress in small-town Louisiana.
But the Sookie Stackhouse is a really good series with vampires, werewolves, and other supernatural beings. And vampires have a very central role.
Twilight (Twilight Saga #1) by Stephenie Meyer

When Bella Swan moves to the Forks, a small, cloudy and rainy town in Washington, she meets Edward Cullen.
Her life takes a thrilling and terrifying turn when she discovers that the beautiful Edward is a vampire.
They become lovers.
But what Bella doesn't realize is the closer she gets to him, the more she is putting herself and those around her at risk.
Deeply romantic and extraordinarily suspenseful. Twilight captures the struggle between defying our instincts and satisfying our desires.
Is Twilight Saga good?
Twilight is the first book in the Twilight Saga.
I remember I liked the books, but they are not good enough for a reread.
Why is Twilight Saga recommended?
If you have read Vampire Academy then you probably already have seen the Twilight movies.
You should hopefully also have read the books if you have seen the movies, the books are much better.
If you have not already read them, then you should read them now.
Harry Potter and the Sorcerer's Stone (Harry Potter #1) by J.K. Rowling

Harry lives a miserable life with the Dursleys. His horrible aunt and uncle, and their abominable son, Dudley.
Harry's room is a tiny cupboard under the stairs, and he hasn't had a birthday party in ten years.
But all that is about to change when a mysterious letter arrives by an owl, a letter with an invitation to Hogwart, an infamous school for witches and wizards.
So begins Harry's new life in a boarding school for wizards and witches.
Is Harry Potter good?
This is the first book of a finished seven-book series about Harry Potter, the boy who lived.
To be honest, I am not a fan of the two first books in this series, but the rest of them are absolutely fantastic.
Highly recommended.
Why is Harry Potter recommended?
Harry Potter is, as everyone knows, more magic and fewer vampires. But it has a school as a central setting.
If you like Vampire Academy then you will probably also like Harry Potter... But you have probably already read it.
Why:
very good
broader audience
Glass Houses (The Morganville Vampires #1)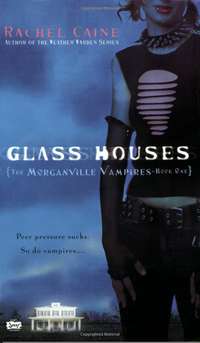 Claire Danvers is way above an averagely intelligent 16-year-old girl who has gotten advanced placement to college.
But her parents still do not allow her to go to the distant Ivy League school of her dreams, so she ends up at Texas Prairie University instead.
She moves into a house called the Glass House with three other outcast students. Goth girl Eve, rebellious Shane, and Michael, a vampire.
Is The Morganville Vampires good?
The Morganville Vampires is good for being a teenage girl paranormal series.
I did stop after a few books, but that was only because there were no more books at the time. But I have no plans of taking it up again.
Why is The Morganville Vampires recommended?
It's not a Highschool, but a collage with vampires and other supernatural events.
If you like Vampire Academy then The Morganville Vampires will probably be to your taste.
Check it out
Why:
same intended audience
Some Girls Bite (Chicagoland Vampires #1) by Chloe Neill

Merit was a graduate student until she one night was attacked by a rogue vampire.
She would have been killed if another vampire had not stepped in and saved her.
Her savor wasEthan Sullivan, the master vampire of the Cadogan House. Merit moves into their mansion and has to learn to live as a vampire while someone still is trying to take her life.
Is Chicagoland Vampires good?
The Chicagoland Vampires is an OK paranormal vampire romance book. It's not among the best in the genre, but its good enough.
If you want more in this genre then its worth reading, but if you want something fresh then you should probably avoid it. It is not unique in its genre.
TV-Shows like Vampire Academy (Vampire Academy #1)
Some of the following TV-Shows should be to your taste when you like Vampire Academy.
The Vampire Diaries

Elena and her brother Jeremy lives in Mystic Falls with their aunt Jenna. She moved in as their guardian after they lost their parents.
On Elena's first day back at school after her parent's death she meats Stefan, a mysterious new guy. What Elena dos not know is that Stefan is an old vampire.
They gradually grow closer, until Stefans`s older brother, Damon, shows up and acts like an evil bastard.
Is The Vampire Diaries good?
I remember liking Vampire Diaries at on point, but then I grew tired of the show. It is a popular show, so you should probably give it a try.
Why is The Vampire Diaries recommended?
Both Vampire Diaries andVampire Academy is about vampires and orientated toward teenage girls.
But older people might also like it.
The Vampire Diaries is also centered around high schoolers, but it's a regular school.
Check out The Vampire Diaries if you want a TV-Series that has similarities with Vampire Academy.
Roswell

In Roswell, we follow teenage alien living in Roswell. They attempted to blend in and live as humans while hiding their alien sides.
Is Roswell good?
I remember I really liked this show.
A mix of teenage problems and sci-fi.
Why is Roswell recommended?
Roswell is kind of different. It has no vampires, and its not a fantasy show, it science fiction.
It has aliens in a high school instead of vampires.
But it's a good show if you want to see a science-fiction teen show.
Teen Wolf

Scott McCall's life changes forever when he is bitten by a werewolf and becomes one himself.
Some changes are positive, like strength, super-hearing and super healing.
There are also problems and dangers that come along with being a lycanthrope. Dangers both from other werewolves and other creatures.
But as if that was not enough, there are also werewolf hunters out there.
Is Teen Wolf good?
I like it. I think it is better than similar shows like Vampires Diary. If you like other teen paranormal shows then you will most likely like this one too.
Buffy: the Vampire Slayer

"In every generation, there is a chosen one... she alone will stand against the vampires, the demons and the forces of darkness. She is the slayer".
Buffy, a sexy kick-ass high school girl, is her generation chosen one.
Destined to slay vampires, demons and other infernal creatures. And at the same time still trying, and failing, to be just a "normal girl".
Luckily for her, she is not alone in her quest to save the world. She has the help of her group of friends, the hilarious evil-fighting team called "The Scooby Gang".
Is Buffy: the Vampire Slayer good?
Buffy is a classic paranormal teen show. It's a little old, but if that does not put you off then its a must-watch-show.
Movie like Vampire Academy (Vampire Academy #1)
Vampire Academy

Rose Hathaway is a Dhampir. A half human-half vampire and a guardian of the Moroi.
Moroi are peaceful, mortal vampires living discreetly within our world.
Her calling is to protect the Moroi from bloodthirsty, immortal vampires, the Strigoi.
Is Vampire Academy good?
Sadly this adaption of the book is bad.
Only watch it if you love vampire movies or liked the book and don't mind a bad movie adaption.
Why is Vampire Academy recommended?
Its the movie version of the books.
Far from as good as the books, but it might still be worth watching if you like watching movie versions of books.
Hopefully, you found some interesting suggestions on the list above.
Some of them should have been to your liking if you like Vampire Academy.