We have created a list of top suggestions for more like Karra Gillian.
Most of the best suggestions are books but some are for TV-Shows and animes.
Try the TV-Show and anime suggestions if you want more like Karra Gillian in a different medium.
Most of the recommendations will have elements in common with the Kara Gillian books.
Common themes like demons, summoning, magic, and witches. Strong female characters, or be in the same urban paranormal fantasy genre.
Description:
Kara Gillian is a detective and a summoner of daemons.
During a routine summoning she accidentally summoned Rhyzkahl, an angelic human-looking creature. She just wanted to use her skill to track down a serial killer.
What is this powerful un-daemon looking creature? And can she stop the serial killer?
Visit titlefindr for more recommendations like "Mark of the Demon".
Books like Mark of the Demon (Kara Gillian #1)
Demons are a common theme in urban and paranormal fantasy books. So are witches and magic. The following suggestions similar to Kara Gillian series have these themes.
You can read more about demons in urban fantasy and paranormal romance literature. Or you can just keep reading our suggestion for what to try next.
Taming Demons for Beginners (The Guild Codex: Demonized #1) by Annette Marie

After Robins's parents died she had to live with her criminal uncle. He is the executor of her parent's will, and he is delaying giving Robin her inheritance.
The main reason why Robin stays with her scheming uncle is that he has her mother's grimoire.
A grimoire that is rumored to contain unknown powerful secrets. She is afraid it will mysteriously be gone if she forces the inheritance issue with her uncle.
Robins's uncle is a demon summoner.
In his library, there is an unknown demon trapped in a summoning circle. Robbin is not allowed to go to the library, but she loves books so much that she disobeys her uncle on that.
As she reads she starts to feed the demon cookies.
Is The Guild Codex: Demonized good?
Taming Demons for Beginners (The Guild Codex: Demonized, Book 1) is a very good urban fantasy book.
It has good character development and a fast-paced story.
Why is The Guild Codex: Demonized recommended?
The Guild Codex: Demonized is another urban fantasy with demon summoning as a central theme. Kara Gillian is probably slightly older, but the two books have plenty of commonalities.
If you like Mark of the Demon, Kara Gillian series, then you will most likely also like Taming Demons for Beginners, The Guild Codex: Demonized.
Annette Marie and Diana Rowland are both excellent Urban fantasy authors.
Visit titlefindr for more recommendations like "Taming Demons for Beginners".
The Amulet of Samarkand (Bartimaeus Sequence #1) by Jonathan Stroud

Britain is ruled by powerful magicians.
Nathaniel, a young boy, is sold to the government by his birth parents. He is sent to live as an apprentice to Arthur Underwood. A cold, condescending, and cruel middle-ranking magician.
After being publicly humiliated by the ruthless magician Simon Lovelace, Nathaniel swears revenge. He plans to do this by stealing the powerful Amulet of Samarkand. The amulet belongs to his master Underwood, but Nathaniel does not mind. Underwood did nothing to defend him from Lovelace's humiliation.
Nathaniel hones his magic skills to be able to summon the 5,000-year-old djinni Bartimaeus.
He plans to use the 5,000-year-old Bartimaeus to take revenge on Lovelace.
Nathaniel is plunged into a situation more dangerous and deadly than anything he could ever imagine.
Is Bartimaeus Sequence good?
This is a well-paced story with a good plot.
You should read this series, it is really good.
The story itself is well-paced and complex enough to keep the reader guessing.
Why is Bartimaeus Sequence recommended?
The Bartimaeus Sequence also has demons and demon summoning as a central theme. Even with this common central themes, they are probably slightly less similar than many of the other books on this list.
The Bartimaeus books have a younger target audience and they are more humorous.
The Bartimaeus Sequence is an excellent series that everyone that loves fantasy should check out.
Links to titlefindr.com:
My Life as a White Trash Zombie (White Trash Zombie #1) by Diana Rowland

Angel Crawford lives with her alcoholic redneck father. They live together in the swamps of southern Louisiana.
Angel is a high school dropout without any ambitions. She has a mile-long police record and addicted to drugs and alcohol.
All these changes when she turned into a zombie.
Angel is now only addicted to brains.
She manages to get a job at the local morgue. This job is important for her food supply. She has to do her best to keep it if she wants to stay "alive".
Is White Trash Zombie good?
I loved this series. It's a very good urban-fantasy book series.
Angel Crawford is a cool heroin with an interesting story. She is a drug adicted slacker that get her life turned up side dow.
Why is White Trash Zombie recommended?
Both the Withe Trash Zombie series and the Kara Gillian series are written by the same person, Diana Rowland. Both series have many similarities even tho the Kara Gillian series is more magical with demons and magic than the White Trash Zombie series.
If You like the Kara Gillian books the definitely check out the White Trash Zombie books.
They are excellent.
Visit titlefindr for more recommendations like "My Life as a White Trash Zombie".
Dead Witch Walking (The Hollows #1) by Kim Harrison

Rachel Mariana Morgan is a witch in her twenties. She is a part-owner of Vampiric Charms.
Vampiric Charms is a freelance runner and security service.
The other owners of Vampiric Charms are Ivy Tamwood and Jenks. Ivy Tamwood is a living vampire that will become a full vampire if she dies, and Jenks, a small pixy.
They used to work together at the vampire-run federal Inderland Security (IS). It's a police service for the supernatural.
Rachel, Ivy, and Jenks, decided to start their own company together, Vampiric Charms.
They live and work together from a decommissioned stone church. The church is in the Hollows district of Cincinnati and has an attached garden and graveyard. Rachel specializes in simple herb-based earth magic. The Curch garden is important for Rachels's magic.
Is The Hollows good?
Overall, an exciting, fun read, that`s hard to put down.
This is a highly recommended Fast-paced and captivating book series.
Why is The Hollows recommended?
The Hollows series also includes demons and witches. They are both in the same genre and have a strong female character as the main character.
Definitely check out The Hollows series if you like Kara Gillian.
Visit titlefindr for more recommendations like "Dead Witch Walking".
Spider's Bite (Elemental Assassin #1) by Jennifer Estep

Gin Blanco is the Spider, the most feared assassin in the south.
But Gin`s day job is at the Pork Pit, a restaurant she owns with the best barbecue in Ashland.
Gin is both a stone elemental and an ice elemental.
She tries to not use her elemental powers while working as the Spider, but it is handy from time to time.
Gin`s family was murdered when she was thirteen by a notorious fire elemental. A fire elemental that is now the top criminal kingpin in Ashland.
After her family's death Gin ended on the streets but was found by Fletcher Lane, the assassin called the Tin Man. He becomes her mentor and trainer. He helped her to become the superior assassin she is today.
Is Elemental Assassin good?
This is a really good series.
Absolutely worth reading.
I know some complain a little on her writing skills, to much redundancy, but it did not bother me.
Links to titlefindr.com:
Skinwalker (Jane Yellowrock #1) by Faith Hunter

Jane Yellowrock is a skinwalker
She shares her body with the soul of a mountain lion and she can take any form as long as she has some bones with DNA from the shape she wants.
Jane works as a freelance rogue-vampire hunter.
In this first book, she is hired to take care of a nasty rogue-vampire in New Orleans. When she is there she comes in contact with the vampire society and learns about the "sane" vampires. She also learns more about her own Cherokee heritage.
Is Jane Yellowrock good?
Great story and strong characters make this a great series.
You should read this.
Visit titlefindr for more recommendations like "Skinwalker".
Ill Wind (Weather Warden #1)

Joanne Baldwin is a Weather Warden that is accusations of corruption and murder.
She decides to resort to the very human tactic of running for her life.
Her only hope is Lewis, the most powerful of all wardens. Unfortunately, he's stolen not one but three bottles of Djinn - making him the most wanted man on earth.
Visit titlefindr for more recommendations like "Ill Wind".
Unholy Ghosts (Downside Ghosts #1) by Stacia Kane

The world is not the way it was. The dead have risen, and the living is under attack.
The powerful Church of Real Truth has been in charge since the government fell. They have sworn to reimburse citizens that are being harassed by the dead.
Chess Putnam is a fully tattooed witch and a freewheeling ghost hunter.
She's got a real talent for banishing the dead.
But Chess is keeping a dark secret. She owes a lot of money to the murderous drug lord Bump. He wants immediate payback in the form of a dangerous job. A job that involves black magic, human sacrifice, and a demonic creature.
Visit titlefindr for more recommendations like "Unholy Ghosts".
TV-Shows like Mark of the Demon (Kara Gillian #1)
We also have included a few TV-Show recommendations that are similar to the Kara Gillian books.
Check these TV-Show suggestions out if you like the Kara Gillian books.
True Blood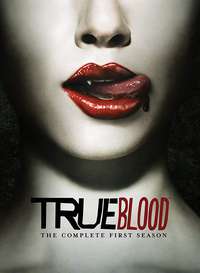 Sookie Stackhouse works as a waitress at Merlotte's, a bar in a Bon Temps a small southern town in the states.
One day she meets Bill Compton, a 173-year old vampire. He stands out to her and they hit it off early on.
Vampires are outed to the world.
They try to be accepted as regular humans. A synthetic blood alternative called True Blood is their main strategy for acceptance.
Sookie`s life gets seriously complicated when she gets involved with the supernatural world. But Sookie is not an ordinary person herself either. She has the ability to read thoughts. Except for the thoughts of vampires. Witch is why Bill stood out to her when she met him.
True Blood is loosely based on the book series Southern Vampire Mysteries.
Is True Blood good?
True Bloodis an excellent TV show.
The story separates itself from the books after the first season, but that's OK. You should watch this show.
Visit titlefindr for more recommendations like "True Blood".
Lost Girl

Bo is a sexy succubus, and to feed she sucks the life force out of people.
For years she did not know what she was and had no control of her feeding.
She fled one corpse after another.
Until one day she accidentally crossed paths with Kenzi, a drifter, and a thief.
Bo rescued Kenzi from a date rape scum bag by killing him, which this time finally made the fae catch up with her.
The fae is split into two sides, light and dark. Each Fae must choose one of the sides, and stick to it.
Bo, who until now has lived outside the fae community, vows to live on her own terms. Even if it means existing alone between the dark and the light.
She manages this with the help of her mischievous, but loyal friends. Her friend Kenzi, the handsome shapeshifter Dyson and the beautiful human scientist Lauren.
While Bo tries to unravel the riddle of her mysterious past, she and her friends also have to tackle other problems that arise.
Is Lost Girl good?
This is a really cool series if you are into this kind of stuff.
Absolute worth watching.
Visit titlefindr for more recommendations like "Lost Girl".
Animes like Mark of the Demon (Kara Gillian #1)
These Anime suggestions have some elements in common with the Kara Gillian books. Mainly demons.
You should check out this demon themed anime list over at Honey`s Anime. Just don't forget to keep reading our list.
Demon Slayer: Kimetsu no Yaiba
Tanjirou Kamado lives with his family on a remote mountain far away from the closest village. Even being poor and living far away they enjoy a relatively peaceful and happy life together.
But one-day Tanjirous life changes radically.
Tanjirou has been over at the closest village selling some charcoal. But he is late on his way home and is forced to take shelter in the house of a strange man. This strange man warns him of the existence of flesh-eating demons lurking in the woods at night.
When Tanjirou finally arrives back home the next day he is greeted with a horrible sight. His whole family has been slaughtered. Except for his sister Nezuko, but his sister did not really survive.
He's sister has turned into a bloodthirsty demon.
Tanjirou swears to avenge his family and to stay by his sister's side and protect her.
Tanjirou will do whatever it takes to slay demons and protect his sister. He joins a mysterious group calling themselves the Demon Slayer Corps to keep his promises
Is Demon Slayer: Kimetsu no Yaiba good?
Demon Slayer: Kimetsu no Yaiba is actually a very good shounen. Shounen animes are often long dragged and mostly battles, but this one is actually able to keep it interesting.
Demon Slayer: Kimetsu no Yaiba is worth watching, but it still might not be the best choice if you hate Shounen or are new to anime and not a teenager.
Visit titlefindr for more recommendations like "Demon Slayer: Kimetsu no Yaiba".
Ao no Exorcist

Daemons from the realm of Gehenna is intruding into the human realm of Assiah. Among the human race, there are Exorcists who can exorcise those demons that are crossing the realms.
Rin Okumura and his twin brother Yukio was raised by the priest Shiro Fujimoto.
It comes as a shock on Rin when he discovers that their biological father is Satan himself.
Rin vows to become the ultimate exorcist and to defeat his father. To do this he enters True Cross Academy to train with other exorcist candidates. Training at True Cross his goal is to become powerful enough to defeat his father.
Is Ao no Exorcist good?
Ao no Exorcist is a good Anime. it was very good. It's not among the best, but it's definitely worth watching if you like anime.
Visit titlefindr for more recommendations like "Ao no Exorcist".
Thas it.
Hopefully, you found some of our suggestions for your liking.
If not, then we hope some of the external links included some recommendations to your liking.