This is the best list of similar suggestions to The Hollows series that we could come up with. Most are books but some are in other mediums.
The main similarities between our suggestions are a strong female character, magic, romance, and a modern setting. Of course, there are some exceptions.
Description:
Rachel Mariana Morgan is a witch in her twenties. She is a part-owner of Vampiric Charms.
Vampiric Charms is a freelance runner and security service.
The other owners of Vampiric Charms are Ivy Tamwood and Jenks. Ivy Tamwood is a living vampire that will become a full vampire if she dies, and Jenks, a small pixy.
They used to work together at the vampire-run federal Inderland Security (IS). It's a police service for the supernatural.
Rachel, Ivy, and Jenks, decided to start their own company together, Vampiric Charms.
They live and work together from a decommissioned stone church. The church is in the Hollows district of Cincinnati and has an attached garden and graveyard. Rachel specializes in simple herb-based earth magic. The Curch garden is important for Rachels's magic.
Visit titlefindr for more recommendations like "Dead Witch Walking".
Books like Dead Witch Walking (The Hollows #1)
TV-Shows like Dead Witch Walking (The Hollows #1)
True Blood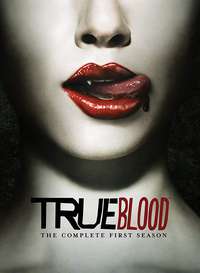 Sookie Stackhouse works as a waitress at Merlotte's, a bar in Bon Temps a small southern town in the states.
One day she meets Bill Compton, a 173-year old vampire. He stands out to her and they hit it off early on.
Vampires are outed to the world.
They try to be accepted as regular humans. A synthetic blood alternative called True Blood is their main strategy for acceptance.
Sookie`s life gets seriously complicated when she gets involved with the supernatural world. But Sookie is not an ordinary person herself either. She has the ability to read thoughts. Except for the thoughts of vampires. Witch is why Bill stood out to her when she met him.
True Blood is loosely based on the book series Southern Vampire Mysteries.
Is True Blood good?
True Bloodis an excellent TV show.
The story separates itself from the books after the first season, but that's OK. You should watch this show.
Why is True Blood recommended?
In True Blood, the world at large knows about the vampires. They are out. But they still do not know about all the other supernatural beings that also exist. Sookie is not as strong as Rachel, but she is still strong in her own way.
True Blood is a very good series that is worth watching.
Visit titlefindr for more recommendations like "True Blood".
Grimm

Portland homicide detective Nick Burkhardt discovers he is a descendant of the fared Grimms.
Grimms are a group of hunters who fight supernatural forces. They are charged with keeping the balance between humanity and the creatures of myth.
A reformed "Big Bad Wolf", now a reformed vegetarian, becomes his greatest helper and confidant.
Is Grimm good?
The creators have earlier made shows like Buffy and Angle. Grimm has some high standards to live up to, and it does so remarkably well.
This Show is a kind of modern take on the Grimm`s fairytales. Grimm is especially worth watching if you like modern fantasy and police shows.
Why is Grimm recommended?
Grimm has a male main character and the regular world does not know about the supernatural world. But it is a good show that you might like. 
Links to titlefindr.com:
We hope some of our suggestion was in your taste.
If you want more similar to The Hollows in the future then please come back. We might remove or add suggestions as we find new stories or change our minds.