Portland homicide detective Nick Burkhardt discovers he is a descendant of hunters who fight supernatural forces, the Grimms. They are charged with keeping the balance between humanity and the creatures of myth. A reformed "Big Bad Wolf", now a reformed vegetarian, becomes his greatest helper and confidant.
Recommendations at Titlefindr.com:
If you want more recommendations similar to "Grimm" then you should visit titlefindr.com. Titlefindr.com has recommendations for almost evry book, movie, and series there is, and its goal is to make it easier for yu to find what you want next.
If you want more like "Grimm" then visit titlefindr.com it has lots of similar books, similar movies, and similar series suggestions. Check it out if you want more like it
TV-Shows like Grimm
Books like Grimm
Storm Front (The Dresden Files #1) by Jim Butcher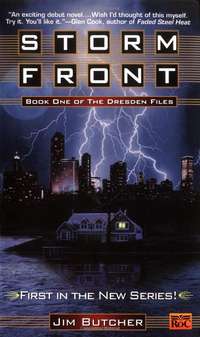 Harry Dresden, a Chicago bound professional wizard, and the only one with an ad in the yellow pages. Business is sadly dreadful, so he jumps on it when the local police bring him in as a consultant on a strange double murder.
Is Storm Front good?
The Dresden Files is a must read for anyone with the slightest interest in this gangrene.
Why is Storm Front recommended?
Dresden is a wizard working as a PI taking on supernatural cases with supernatural powers. He works closely with a cop to solve his cases, as they often involve law enforcement. I would say that Grimm and The Dresden Files have some similarities that make it worth checking out.
Links to titlefindr.com:
Dead Witch Walking (The Hollows #1) by Kim Harrison

Rachel Mariana Morgan,a twenty something witch, is an equal partner in 'Vampiric Charms', a freelance security service. Her partners are Ivy Tamwood, a living vampire (She becmes a full vampire if she dies), and Jenks, a pixy. They all just to work with the vampire-run federal Inderland Security (IS) police service.
Is Dead Witch Walking good?
Overall, an exciting, fun read, that`s hard to put down. This is a highly recommended Fast-paced and captivating book.
Why is Dead Witch Walking recommended?
Rachel Mariana Morgan is a PI and her cases are supernatural in nature and often tangled with the supernatural law enforcement. So if you are into paranormal books and like Grimm, then give The Hollows books a try.
Visit titlefindr for more recommendations like "Dead Witch Walking".
Hard Magic (Grimnoir Chronicles #1) by Larry Correia

Jake Sullivan is a felon with the Heavy classification, he can manipulate gravity. He spent his jail time honing his Heavy skills to unprecedented heights. He is now J. Edgar Hoover's super-weapon, useful for fighting Actives with the Fades, Torches, Brutes, and any of the other classifications who are using their magic for criminal purposes. Jake doesn't like being used this way, but it's his ticket out of prison. When the FBI asks Jake to bring down Delilah Jones, the Brute who used to be his girlfriend, Jake gets caught up in a world-wide battle that involves zeppelins, magic, zombies, Ninjas and Tesla's peace ray.
Why is Hard Magic recommended?
Jake Sullivan is a reluctant crime fighter using his superpower to stop criminals with superpowers.
Visit titlefindr for more recommendations like "Hard Magic".
Animes like Grimm
Death Note

Yagami Light is a 17-year-old genius from Japan. One day he stumbles upon a notebook with the words "Death Note" written on the front. Unbenowns to Light, this book used to belong to Shinigami (death Good) called Ryuk. The first sentence in this book states that anyone whose name is written inside will die. Light falls for his all to human curiosity an try the book. Discovering that this is actually true, Light decide to use this power to change the world in his image and become God of the New World. Light soon meats resistance from another genius known as L. He is working against Light's beliefs and Light himself.
Is Death Note good?
This is a really good anime. This might be a good starting point if you never have watched animes before. If you have experience with animes then you probably already have watched this show.
Visit titlefindr for more recommendations like "Death Note".
Psycho-Pass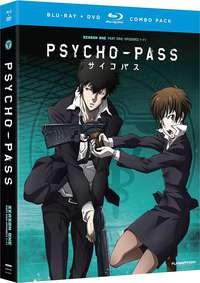 Your emotional state and intentions can be read by the Sibyl system, and the government uses it to stop crime. Cops work in teams made up of Enforcers and Inspectors. Enforcers take out the bad guys, Inspectors stop their partners from going rogue, and the all-powerful Sibyl System keeps a watchful eye on us all.
Is Psycho-Pass good?
Psycho-Pass is an interesting dystopia anime. Absolute worth giving a try.
Visit titlefindr for more recommendations like "Psycho-Pass".