Anita Blake is a necromancer and vampire hunter. Vampires are protected by law, but when some of them gets out of hand, then you call Anita Blake, the Executioner. Guilty Pleasures, the first book in the Anita Blake Vampire Hunter series, starts out with someone killing innocent vampires. Anita is approached by Jean Claude, the second strongest vampire in the city to help figur out who is killing vampires. Anita agrees to help out after a bit of vampiric arm-twisting.
Books like Guilty Pleasures (Anita Blake Vampire Hunter #1)
TV-Shows like Guilty Pleasures (Anita Blake Vampire Hunter #1)
Being Human

Mitchell, George and Annie are in there twenties and shares an apartment in Bristol England. However, they are not an ordinary group of twenty-something sharing an apartment, they are respectively a vampire, a werewolf and a ghost.
Is Being Human good?
This show has some inconsistencies with rules about the supernatural that changes depending on the plot sometimes, but it is still an amazing show. Absolutely worth watching.
True Blood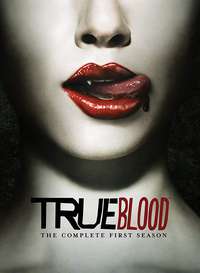 Sookie Stackhouse works as a waitress at Merlotte's, a bar in a Bon Temps a southern town in the states. On day she meats Bill Compton, a 173-year old vampire. Vampires are outed to the world, and they try to be accepted as regular humans by drinking True Blood, a synthetic blood. Sookie`s life gets seriously complicated when she gets involved with the supernatural world, but Sookie is not an ordinary person herself either. She has the ability to read thoughts. True Blood is loosely based on the book series Southern Vampire Mysteries.
Is True Blood good?
This is an excellent TV show. Te story separates it self from the books after the first season, but that's OK. You should watch this show.
Lost Girl

Bo is a sexy succubus, and to feed she sucks the life force out of people. For years she did not know what she was and had no control of her feeding. She fled one corpse after another until she accidentally crossed paths with Kenzi, a drifter and a thief. Bo rescued Kenzi from a date rape scum bag by killing him, which this time finally made the fae catch up with her. The fae are split in two sides, light and dark. Each Fae must choose one of the sides, and stick to it. Bo, who until now has lived outside the fae community, vows to live on her own terms even if it means existing alone between the dark and the light. She manages this with the help of her mischievous, but loyal friend, Kenzi, the handsome shapeshifter Dyson, and the beautiful human scientist Lauren. While Bo tries to unravel the riddle of her mysterious past she and her friends also tackle other problems that arise.
Is Lost Girl good?
This is a really cool series, if you are in to this kind of stuff. Absolute worth watching.
Anime like Guilty Pleasures (Anita Blake Vampire Hunter #1)
Blood+

Two groups have been at war for ages. The immortal bloodsucking monsters called Chiropterans and an organisation known as the Red Shield formed to track down these monsters and kill them. Saya Otonashiis a high-school girl who lives a peaceful life with her family. She sadly suffers from amnesia and can't remember the past year of her life. One day her happy life is destroyed when a man gives her a katana and she finds herself fighting Chiropterans.
Is Blood+ good?
Blood+ is a good anime that any anime fan should watch. People new to animes can also try this one out.