This article has a good list of similar recommendations to Kitty Norville. So if you want more like Kitty Norville, then this is for you.
Most of the suggestions have supernatural settings wit romance as a strong part of the story. Most of them also contain werewolves or other shapeshifters.
Most of the main characters are female and most of them are shifters.
Description:
Kitty Norville is the wolf with the lowest status in her pack. She is submissive to everyone.
She has just realized that she can make it on her own. Working as a midnight-shift DJ for a Denver radio station. This means that she doesn't need the pack so much as she used to.
Or so she thinks...
Kitty ends up getting one sexy werewolf-hunter and a few homicidal undead on her tail.
She may have bitten off more than she can chew?
Visit titlefindr for more recommendations like "Kitty and the Midnight Hour".
Books like Kitty and the Midnight Hour (Kitty Norville #1)
TV-Shows like Kitty and the Midnight Hour (Kitty Norville #1)
Bitten

Bitten is based on the excellent book series; Women of the Otherworld by Kelley Armstrong.
We follow Elena Michaels, a werewolf that abandoned her pack. She took refuge in the city where she got a successful photography career.
But trouble is brewing at the packs home, and her alpha is calling her back. What will come of her peaceful life, and will the pack survive?
Is Bitten good?
Bitten is a good show. Not as good as the books, but absolutely worth watching. Especially if you like paranormal fantasy and werewolves. Its not a teen show. It has older actors.
Why is Bitten recommended?
Bitten has some strong similarities with the Kitty Norville books. Both have a female werewolf as thas is part of a werewolf pack as the main character.
If you like the Kitty Norville books and want a similar TV show, then Bitten is definitely worth checking out.
Why:
shapeshifting
female mc
mc is werewolf
Visit titlefindr for more recommendations like "Bitten".
True Blood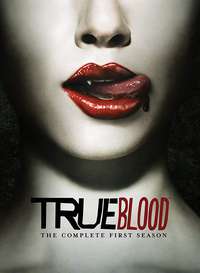 Sookie Stackhouse works as a waitress at Merlotte's, a bar in Bon Temps a small southern town in the states.
One day she meets Bill Compton, a 173-year old vampire. He stands out to her and they hit it off early on.
Vampires are outed to the world.
They try to be accepted as regular humans. A synthetic blood alternative called True Blood is their main strategy for acceptance.
Sookie`s life gets seriously complicated when she gets involved with the supernatural world. But Sookie is not an ordinary person herself either. She has the ability to read thoughts. Except for the thoughts of vampires. Witch is why Bill stood out to her when she met him.
True Blood is loosely based on the book series Southern Vampire Mysteries.
Is True Blood good?
True Bloodis an excellent TV show.
The story separates itself from the books after the first season, but that's OK. You should watch this show.
Visit titlefindr for more recommendations like "True Blood".
The Vampire Diaries

Elena and her brother Jeremy lives in Mystic Falls with their aunt Jenna. She moved in as their guardian after they lost their parents.
On Elena's first day back at school after her parent's death she meats Stefan, a mysterious new guy. What Elena dos not know is that Stefan is an old vampire.
They gradually grow closer, until Stefans`s older brother, Damon, shows up and acts like an evil bastard.
Is The Vampire Diaries good?
I remember liking Vampire Diaries at on point, but then I grew tired of the show. It is a popular show, so you should probably give it a try.
Visit titlefindr for more recommendations like "The Vampire Diaries".