If you like Chicagoland Vampires and want more like it then keep reading. We have created a nice list of recommendations that should contain some suggestions for your liking.
In addition to adding recommendations for Books similar to Chicagoland Vampires, we have also added a few Anime and TV-Show suggestions to our list.
Description:
Merit was a graduate student until she one night was attacked by a rogue vampire.
She would have been killed if another vampire had not stepped in and saved her.
Her savor wasEthan Sullivan, the master vampire of the Cadogan House. Merit moves into their mansion and has to learn to live as a vampire while someone still is trying to take her life.
Visit titlefindr for more recommendations like "Some Girls Bite".
Books like Some Girls Bite (Chicagoland Vampires #1)
TV-Shows like Some Girls Bite (Chicagoland Vampires #1)
True Blood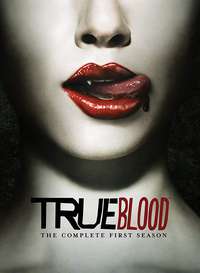 Sookie Stackhouse works as a waitress at Merlotte's, a bar in Bon Temps a small southern town in the states.
One day she meets Bill Compton, a 173-year old vampire. He stands out to her and they hit it off early on.
Vampires are outed to the world.
They try to be accepted as regular humans. A synthetic blood alternative called True Blood is their main strategy for acceptance.
Sookie`s life gets seriously complicated when she gets involved with the supernatural world. But Sookie is not an ordinary person herself either. She has the ability to read thoughts. Except for the thoughts of vampires. Witch is why Bill stood out to her when she met him.
True Blood is loosely based on the book series Southern Vampire Mysteries.
Is True Blood good?
True Bloodis an excellent TV show.
The story separates itself from the books after the first season, but that's OK. You should watch this show.
Visit titlefindr for more recommendations like "True Blood".
The Originals

The Original is a spin-off where we follow the original vampire family from The Vampire Diaries.
They are known as the first vampires and the ancestor of all existing vampires.
Is The Originals good?
I find this spin-off to actually be better than the original series. The reason for this is probably that it is not as teen-focused as the Vampire Diary.
Visit titlefindr for more recommendations like "The Originals".
Buffy: the Vampire Slayer

"In every generation, there is a chosen one... she alone will stand against the vampires, the demons and the forces of darkness. She is the slayer".
Buffy, a sexy kick-ass high school girl, is her generation chosen one.
Destined to slay vampires, demons and other infernal creatures. And at the same time still trying, and failing, to be just a "normal girl".
Luckily for her, she is not alone in her quest to save the world. She has the help of her group of friends, the hilarious evil-fighting team called "The Scooby Gang".
Is Buffy: the Vampire Slayer good?
Buffy is a classic paranormal teen show. It's a little old, but if that does not put you off then its a must-watch-show.
Links to titlefindr.com:
Animes like Some Girls Bite (Chicagoland Vampires #1)
Blood+

Two groups have been at war for ages.
The immortal bloodsucking monsters called Chiropterans and the organization known as the Red Shield.
Red Shield was formed to track down the Chiropterans and kill them.
Saya Otonashiis a high-school girl who lives a peaceful life with her family. She sadly suffers from amnesia and can't remember the last year of her life. But other than that, everything is good.
But one day Saya's happy life is destroyed.
A man gives her a katana and she finds herself fighting Chiropterans. And she is good at it. Like she has done this before.
Is Blood+ good?
Blood+ is a good anime that any anime fan should watch.
People new to animes can also try this one out.
The battles have a reason. They are not added on and drawn out like most other shounen anime.
The characters are in focus and it shows how they change and adapt to events happening around them and to them.
Visit titlefindr for more recommendations like "Blood+".
Shiki

Sotoba is a small village with around 1300 residents. It is so small the village isn't even connected to a single highway. Sotoba is an isolated village in which old customs, such as the burial of the dead, are still practiced.
Fifteen-year-old Megumi Shimizu dreamed of a glamorous life in the big city. However, her unexpected death marks the beginning of what appears to be a ferocious epidemic.
Ozaki Toshio, the village's lone doctor, begins to doubt the nature of the disease. He realizes that to discover the truth he must abandon his humanity.
Ozaki and Natsuno Yuuki, an antisocial young man, must work together to save Sotoba. Their goal is to stop Sotoba from becoming a ghost town of Vampires.
The Shiki, as the vampires call themselves, are abandoned by good and have only their will to live as they clash with the fear of the paranoid and unbelieving humans.
Shiki is adapted from the horror novel written by Fuyumi Ono. It's a tragic story about survival in a world where one cannot easily distinguish between good and evil. Shiki explores the boundary that separates man from monsters.
Is Shiki good?
Shiki is an average anime. It is not average in what it is about, but in how good it is. It is only worth watching if you are a fan of Gory Horror Anime. But if you like this genre then it is absolutely worth watching.
Visit titlefindr for more recommendations like "Shiki".
Hellsing

Alucard and Seras Victoria work for the Hellsing Organization, a vampire extermination group in England.
Alucard is the organization's deadliest weapon, and Victoria is constantly working her way up to his level.
What makes these two vampire hunters so effective is that they themselves are vampires.
Visit titlefindr for more recommendations like "Hellsing".