We have created the best list of similar recommendations as The Hunger Games by Suzanne Collins. So if you want more like The Hunger Games then keep reading.
The Hunger Games is a disturbing futuristic dystopian book series with thought-provoking elements. It has a strong female main character and a plot centering around a battle royale theme with a corrupt authorial government. The story has young heroes doing their best to survive and revolt against the government.
Our suggestions for more entertainment like The Hunger Games have one or more of the above-mentioned elements in common. There are also a few suggestions that might not have any direct similarities, but we think that most of the consumers will be the same people.
Most of our recommendations will be more books like The Hunger Games. But her at A Fictional Universe, we try our best to always include recommendations from other mediums than the source. So this article also includes anime and movies that are similar to The Hunger Games.
Description:
Panem is a nation consisting of a shining Capitol for the wealthy surrounded by twelve outlying poorer districts.
Long ago a rebellion led by a 13th district against the Capitol resulted in its destruction. As part of the surrender terms, each of the twelve surviving districts agreed to send one boy and one girl to appear in an annual televised event called,"The Hunger Games".
"The Hunger Games" is a fight to the death on live TV. Only one survives. 
Katniss Everdeen, a sixteen-year-old girl from district twelve, ends up as the female tribute from her district. She and her male counterpart Peeta, are pitted against bigger and stronger representatives, some of whom have trained for this their whole lives.
Visit titlefindr for more recommendations like "The Hunger Games".
Books like The Hunger Games (The Hunger Games #1)
We have done our best to find similar books like The Hunger Games. We found some more that might be similar, but none of us have read them. But you can check out this article for more suggestions.
Twilight (Twilight Saga #1) by Stephenie Meyer

When Bella Swan moves to the Forks, a small, cloudy and rainy town in Washington, she meets Edward Cullen.
Her life takes a thrilling and terrifying turn when she discovers that the beautiful Edward is a vampire.
They become lovers.
But what Bella doesn't realize is the closer she gets to him, the more she is putting herself and those around her at risk.
Deeply romantic and extraordinarily suspenseful. Twilight captures the struggle between defying our instincts and satisfying our desires.
Is Twilight Saga good?
Twilight is the first book in the Twilight Saga.
I remember I liked the books, but they are not good enough for a reread.
Why is Twilight Saga recommended?
They are actually not that similar. One is sci-fi while the other is paranormal.
Twilight has vampires and werewolves while there are only regular humans in The Hunger Games.
However they both have a similar feel to them, only Twilight is a little heavier on the romance.
They both have the same target audience, teenage girls, and both have been adapted into a popular movie version.
Visit titlefindr for more recommendations like "Twilight".
Divergent (Divergent #1) by Veronica Roth

The dystopian society in Divergent is divided into five factions, each dedicated to the cultivation of a particular virtue. Candor the honest, Abnegation the selfless, Dauntless the brave, Amity the peaceful, and Erudite the intelligent.
On an appointed day all sixteen-year-old teens must select the faction they want to devote the rest of their lives too. There are no takebacks as soon as the choice is done.
Beatrice has to decide between staying with her family in Amity or choosing to be who she really is. She can't have both, and the choice she makes ends up surprises everyone, including herself.
Beatrice takes the new name Tris when she joins her new faction.
She discovers that she also has a secret, one she has to keep hidden from everyone because she's been warned it can mean death.
Is Divergent good?
Many people like this Divergent, but I`m not a big fan. It was ok, but I did not read the rest of the books in the series.
Divergent is yet another YA dystopian book series. If this is your thing, then Divergent is probably worth reading.
Why is Divergent recommended?
Both typical teenage girl books and both have been made into movies.
They are both set in a dystopian society, and they both have a strong female as the lead character.
Divergent does not have a deadly fight to the death game, but it is still deadly dangers they have to survive.
If you like The Hunger Games then Divergent is a good place to look for something similar.
Why:
very similar
dystopian
futuristic
Why not:
no battle royale
Visit titlefindr for more recommendations like "Divergent".
Ender's Game (The Ender Quintet #1) by Orson Scott Card

The earth's government agencies started to breed child geniuses to train as soldiers. All in order to develop a secure defense against a hostile alien race.
The brilliant young boy Andrew "Ender" Wiggin is drafted to the orbiting Battle School for rigorous military training.
Ender's skills make him a leader among his peers and respected in the Battle Room, where they play at mock battles in zero gravity.
Will Ender become the great general Earth needs to survive?
Is The Ender Quintet good?
Do not judge a book by its author's personal views. This is an excellent book, and you should not forego it because of Orson Scott Card's stupid personal views.
Why is The Ender Quintet recommended?
They are both set in a futuristic sci-fi universe, but Ender`s Game is set in space while The Hunger Games takes place on the surface of a post-post-apocalyptic world.
These books are similar in that they both consist of children/teens competing and playing in brutal "games".
Warrior training is a big part of The Hunger Games and Ender`s Game.
Visit titlefindr for more recommendations like "Ender's Game".
Harry Potter and the Sorcerer's Stone (Harry Potter #1) by J.K. Rowling

Harry lives a miserable life with the Dursleys. His horrible aunt and uncle, and their abominable son, Dudley.
Harry's room is a tiny cupboard under the stairs, and he hasn't had a birthday party in ten years.
But all that is about to change when a mysterious letter arrives by an owl, a letter with an invitation to Hogwart, an infamous school for witches and wizards.
So begins Harry's new life in a boarding school for wizards and witches.
Is Harry Potter good?
This is the first book of a finished seven-book series about Harry Potter, the boy who lived.
To be honest, I am not a fan of the two first books in this series, but the rest of them are absolutely fantastic.
Highly recommended.
Why is Harry Potter recommended?
I am not sure why I think they belong together, but I think they do.
If you like The Hunger Games then I am quite sure you also will like Harry Potter. The first books are more for children, but they get better.
Visit titlefindr for more recommendations like "Harry Potter and the Sorcerer's Stone".
Battle Royale by Koushun Takami

In an alternative future in Japan, a group of junior high students is forced to fight to the death!
The students are taken to a deserted island where they are to take part in a battle to the death. They are provided weapons and forced to kill one another until only one survivor is left standing.
This is enforced by a ruthless authoritarian government program. If they dear to break the rules a special collar blows their heads off.
Why is Battle Royale by Koushun Takami recommended?
Teens fighting for survival in a twisted game. Probably the most similar book out there.
If you like The Hunger Games then Battle Royal is a good choice for something similar.
Visit titlefindr for more recommendations like "Battle Royale".
Sabriel (Abhorsen #1)

Two neighboring countries are divided by a wall, Ancelstierre to the south, and The Old Kingdom to the north.
Ancelstierre has a technology level and society similar to that of early-20th century England. The Old Kingdom has a more medieval technological level, but they do have both Free Magic and Charter Magic. This last tidbit is officially denied by the government of Ancelstierre and disbelieved by most of its inhabitants.
Sabriel is in her last year at Wyverley College, a private school in Ancelstierre that lies close to the wall to The Old Kingdom.
When an undead creature enters their dormitory Sabriel notices it is attempting to communicate. It is a messenger from her father, the Abhorsen, who is now past the Seventh Gate of Death.
The message tells Sabriel that she is to take on the role of Abhorsen and defeat Kerrigor, a powerful necromancer who is attempting to make his way back into Life.
The undead messenger gives Sabriel the Abhorsen's bandolier of bells, the Abhorsen's sword, and a map of The Old Kingdom.
Sabriel leaves Wyverley College and travels into the mystical land of the Old Kingdom.
Is Abhorsen good?
Sabriel is a really great book and the rest of the Abhorsen books are just as good. They are YA books, but they are still worth reading for adults.
Visit titlefindr for more recommendations like "Sabriel".
Poison Study (The Study #1) by Maria V. Snyder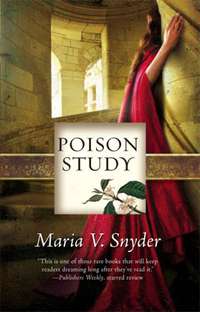 Yelena is sentenced to death for committing murder, but she is offered an extraordinary reprieve. She gets the opportunity to accept a job with an extraordinarily high chance of death.
She is offered to become the food taster for the commander of Ixia. A person that people are very likely to attempt to assassinate. And Poison is a common assassin method.
The chief of security leaves nothing to chance and deliberately feeds her Butterfly's Dust, a deadly poison. Only by appearing for her daily antidote will she delay an agonizing death from the poison.
Yelena tries to escape her punishment but she gets tied up in rebel plots and here own newly found magical powers that she can't control.
Is The Study good?
Poison Study is the first book in The Study series.
It is an excellent book that is absolutely worth giving a try.
Visit titlefindr for more recommendations like "Poison Study".
The Lightning Thief (Percy Jackson and the Olympians #1) by Rick Riordan

Percy Jackson is a good kid, but he can't seem to focus on his schoolwork or control his temper.
His mother sends Percy to Camp Half-Blood, a summer camp for demigods. There he learns that his father is Poseidon.
Together with his friends, he has to prevent a catastrophic war between the gods.
Visit titlefindr for more recommendations like "The Lightning Thief".
Movies like The Hunger Games (The Hunger Games #1)
Animes like The Hunger Games (The Hunger Games #1)
We have done our best to find similar anime like The Hunger Games. Most of them have a Battle Royale them to them.
Mirai Nikki

One day, Yukiteru discovers that his cell phone "diary" can now tell him events in the future.
The problem is, eleven others also have similar diaries, and they are all forced into a battle royale game.
Only one can win this Survival Game. The winner becomes a god. The losers: DEAD END.
Is Mirai Nikki good?
Mirai Nikki (future diary) is an OK anime. Slightly better than average, but nothing special.
If you like Battle Royale stories and regularly watch animes then it's worth watching.
Why is Mirai Nikki recommended?
Mirai Nikki (The Future Diary) also has a battle royale element to it. People are forcefully chosen to participate in a fight to the death where only one of them will remain standing. The winner will be the God of time and space.
If you want an anime similar to The Hunger Games then check out Mirai Nikki.
Visit titlefindr for more recommendations like "The Future Diary".
Fate/Zero

The Holy Grail can grant any wish, but to get it you have to be the last person standing in a battle against other seekers.
The Holy Grail has triggered three wars in the past, al too cruel and fierce to leave a victor. In spite of this, the Einzbern family is confident that the Fourth Holy Grail War will be different.
The Magus Killer Kiritsugu Emiya is hired by the Einzberns to help out in the upcoming war. He is bound to their cause with marriage to their only daughter Irisviel as a binding contract.
Kiritsugu and his familiar Saber now stands at the center of the next Holy Grail War, a cutthroat game of survival. He is facing off against six other participants, each armed with their own ancient familiar.
Why is Fate/Zero recommended?
Fate/Zero has the Battle Royale fight to the last man standing elements to it. But they participate willingly. The potential reward is for most of them worth the risk.
If you like The Hunger Games and watch anime, then Fate/Zero is a decent anime to check out.
Visit titlefindr for more recommendations like "Fate/Zero".
Deadman Wonderland

Ganta is the only survivor after a classroom full of high school students was slaughtered by a mysterious man in red.
Ganta is framed for the carnage and sentenced to die.
He is locked away in Deadman Wonderland, the most twisted prison ever built. Convicts are forced into brutal deathmatches for the amusement of the masses.
Ganta discovers that he has a strange ability to wield his blood as a weapon. He learns that his new skill might be related to the mysterious man in red and uncovers secrets that could expose those who stole his freedom.
Is Deadman Wonderland good?
Deadman Wonderland is a good anime, not among the best, but still high up there.
If you like animes, then it is still worth a try. If you are new to animes, then you should probably start with another show.
Why is Deadman Wonderland recommended?
People are fighting to the death for other's amusement. In Deadman Wonderland only convicts are fighting each other. But some of the less fortunate districts in The Hunger Games are not far from prison camps.
Visit titlefindr for more recommendations like "Deadman Wonderland".