If you want more like The First Law by Joe Abercrombie then the list of suggestions we have made is just what you need.
Most of the suggestions are epic fantasy books. Dark and gritty with a fast pace. But there are some exceptions. Some of the epic fantasies are not as dark and gritty, like the Mistborn series, and others are a bit slower and larger, like The Malazan Book of the Fallen series.
We have also found a few suggestions in other mediums, TV-Shows, and anime. Some of those are of course longer out there on the similarity scale.
Description:
Murderous conspiracies, old scores ready to be settled, unpredictable, compelling, wickedly funny, and packed with unforgettable characters. This is what you will get in The Blade Itself.
In this story, we follow some interesting characters. The infamous barbarian Logen Ninefingers, Captain Jezal dan Luthar, Inquisitor Glokta, and he wizard Bayaz.
Jezal is a nobleman, dashing officer, and paragon of selfishness. He has nothing more dangerous in mind than fleecing his friends at cards and dreaming of glory in the fencing circle.
Glokta, a cripple turned torturer, loves cutting treason out of the Union, one confession at a time.
Bayaz is an old man with a terrible temper. He could be the First of the Magi or he could be a spectacular fraud.
Whatever he is, he's about to make the lives of Logen, Jezal, and Glotka a whole lot more difficult.
Visit titlefindr for more recommendations like "The Blade Itself".
Books like The Blade Itself (The First Law #1)
TV-Shows like The Blade Itself (The First Law #1)
Dexter

Dexter Morgan, by day a blood spatter pattern expert for the Miami Metro police department, but by night he becomes a brutal serial killer.
Dexter, Like most serial killers, only kills people who fit a very specific profile. He follows a "moral code" taught to him by his late father Harry, he only kills violent criminals that slip between lady justice`s fingers.
Dexter is grappling with fitting into society, while at the same time, he struggles with his inability to feel emotion.
Is Dexter good?
Each season of Dexter is made up of a story that starts at episode one and ends at the season finale. But there is also good continuity between seasons.
It is strange how the writers manage to get you to root for a serial killer.
Why is Dexter recommended?
Dexter is kind of a long shot suggestion. We can't find any direct similarities, but we still think it should be a suggestion.
But it's not a suggestion for something more of the same. Its a suggestion for something different that you probably will like if you like The First Law.
Visit titlefindr for more recommendations like "Dexter".
Penny Dreadful

Penny Dreadful follows some unique characters and some figures from classic literature. Dorian Gray, and Dr. Frankenstein and his monster are some of these characters.
We follow these characters as they go about their frightening business in the darkest corners of Victorian London. With vampires, evil spirits and immortal beasts.
Penny Dreadful is a psychological thriller filled with dark mystery and chilling suspense.
Is Penny Dreadful good?
Perfect atmosphere, dense, Gothic, surreal and unsettling. A really grim and fantastic depiction of Victorian London.
Some characters are predictable and dull, but many are unique and interesting with literate and dense dialog. And best of all, it has very few cheap jumps scares.
Penny Dreadful is absolutely worth watching. I love it.
Why is Penny Dreadful recommended?
Penny Dreadful is not set in medieval times but in Victorian London. It also focuses more on monsters.
But its an excellent dark and gritty show. You will probably like it if you like First Law and stories like it.
Visit titlefindr for more recommendations like "Penny Dreadful".
The Witcher

The Witcher follows the story of Geralt of Rivia, one of the few remaining witchers.
Witchers are humans that are magically altered to make them better at fighting magical monsters.
Geralt is a Witcher and a solitary monster hunter. He has to traverse a world where people often are more wicked and brutal than the monsters and beast he was made to hunt.
In the midst of brutal changes on the continent, Geralt's life is forcefully changed by destiny. His fate is tightly intertwined with two other people. A powerful sorceress and a young princess with a special gift.
The Witcher is base on a series with the same name by the Polish writer Andrzej Sapkowski.
An excellent game series is also based on his books.
Is The Witcher good?
The witcher is a top-notch show from Netflix.
I relay hope they keep it alive for many seasons.
Season one was a little confusing with different stories on different timelines, but as soon as I got what was happening it was ok.
Henry Cavill does an excellent job as Geralt, a perfect match. And the show has some of the better sword fighting scenes than I have ever seen on a TV show.
The Witcher is a must watch show on Netflix
Visit titlefindr for more recommendations like "The Witcher".
Animes like The Blade Itself (The First Law #1)
Death Note

Yagami Light is a 17-year-old genius from Japan.
One day he stumbles upon a notebook with the words "Death Note" written on the front. Unbeknownst to Light, this book used to belong to a Shinigami called Ryuk.
Shinigami are Death Gods.
The first sentence in this book states that anyone whose name is written inside will die.
Light falls for his all too human curiosity, and try to write in the book. Discovering that those whom he writes into the book actually dies, Light decides to use this power to change the world.
Light will change the world in his image and become God of the New World.
Light soon meats resistance from another genius known as L. He is working against Light's beliefs and Light himself.
Is Death Note good?
Death Note is a really good anime.
This might be a good starting point if you never have watched animes before. If you have experience with animes then you probably already have watched this show.
Why is Death Note recommended?
Death Note is kind of different. It's modern, and an anime.
But if you like The First Law and think the Death Note description is interesting, then you should check it out. It's a very good anime.
Visit titlefindr for more recommendations like "Death Note".
Claymore

In a world that humans must share with Yoma, demonic predators who feast on human intestines, we follow a young boy, Raki, who has lost everything to the Yomas. He joins up with Clare, a slightly older girl, and a Claymore.
Claymores are half human and half Yoma.
Claymoresare detested by most humans, but they are necessary. They are the only force that stands between them and getting their intestines eaten.
Clare and Raki travel together around on missions set by the Claymore leaders to take care of Yoma infestations. Clare is considered an outcast by her own people for picking up a young boy and for almost losing herself to her Youma side.
Is Claymore good?
Claymore is a really good anime.
Its a brutal story about revenge, growing stronger and mentoring others. It has characters that grow and change, and best of all, it does not have battles that drag on for ages like so many shonen based anime does. 
Claymore might also be interesting for people that usually do not watch anime, especially if you like strong female characters.
Visit titlefindr for more recommendations like "Claymore".
The Heroic Legend of Arslan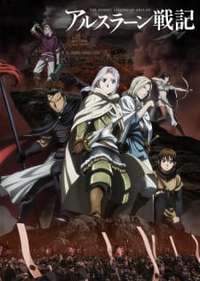 King Andragoras III of the Kingdom of Pars has dragged the kingdom into a war with its neighboring empire, Lusitania. Prince Arslan ventures out on the battlefield for the first time to prove his valor.
But then the King is betrayed. One of his closest advisors worked Lusitania behind his back, and now the capital is under siege.
Arslan finds himself on the run from Lusitania. He has to set out on a journey to find allies to help him take back his home.
Visit titlefindr for more recommendations like "The Heroic Legend of Arslan".