Grimgar: Ashes and Illusions is an Isekai where the choice is to kill or be killed. There are no respawns. Dead is dead. But it focus more on the emotions, relations, and daily grind to survive of the character than the action it self.
Our recommendations for more anime similar to Grimgar: Ashes and Illusions is mostly other Isekai animes, and they are not all so much focused on the drama instead of the action as Grimgar is. But most should be to your taste if you like Grimgar.
We have also added a few recommendations from other mediums. Most of them are LitRPG books that have similar aspects to Grimgar.
Check out this article for the Best Isekai Anime Recommendations if you want more in this genre.
Description:
People are thrown into a foreign land with nothing but hazy memories and the knowledge of their name. This group of strangers is given no other choice than to accept the only paying job in this game-like world, the role of a soldier in the Reserve Army. 
The Reserve Army has one goal, to eliminate anything that threatens the people in the world of Grimgar.
All the strong people join together and those remaining have to band together to survive in this world.
One such group of leftovers is lead by the charismatic priest Manato. The other members are the nervous thief Haruhiro, the cheerful hunter Yume, the shy mage Shihoru, the kind warrior Mogxo, the rowdy dark knight Ranta. Together they struggle to survive this harsh world.
Despite its game-like resemblance, this is no game. There are no respawns or do-overs. 
Grimgar is a kill or be killed world.
Visit titlefindr for more recommendations like "Grimgar: Ashes and Illusions".
Animes like Grimgar: Ashes and Illusions
Books like Grimgar: Ashes and Illusions
The Two Week Curse (Ten Realms #1) by Michael Chatfield

Erik and Rugrat are both combat veterans, Erik is a combat medic and Rugrat is a Marine Recon sniper. During a mercenary trip guarding some shady copper mine owners, they are caught in an ambush and Erik ends up losing his legs and his arm.
And to top it off, they both get the Two Week Curse.
It's a strange sickness where they get a strange message saying that they have been randomly selected to join the Ten Realms. And that one may choose to ascend the Ten Realms, thereupon making a request to the Gods of the Realms.
People who get this curse dissipates in a bright flash after exactly two weeks.
As the harden veterans they are, they do their best to prepare for what is going to happen. When the two weeks are up they are teleported to a new strange world where people can rank up as in a game and cultivate their internal power.
Is Ten Realms good?
The Ten Realms Series is not the absolute best of its genre, but it is absolutely worth reading. Especially for people that are interested in the LitRPG and Cultivation/Wuxia genres.
It's interesting to see how Erik and Rugrat use their military knowledge and comradery to take on their new strange circumstances.
One of the major problems with the series is that Eric and Rugrath soon become too powerful. And the initial preparation part before they get to the new world is too long.
Visit titlefindr for more recommendations like "The Two Week Curse".
The Land: Founding (Chaos Seeds #1)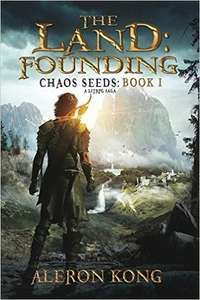 James and his friends were among the top teams on the newest and greatest VRMMORPG game, The Land. When they were riding a new dungeon he was separated from his friends.
A game boss, or so hi thinks, asks him a question.
After answering the same question three times he is suddenly transferred to the real planet that the game was based on.
James still has access to his character sheets and delves into this real game, where he now is called Richter.
Richter quickly finds himself dragged into an age-old war. A war between forest sprites and goblins. At the same time, he also ends up in control of his own village that he has to grow.
Is Chaos Seeds good?
The Chaos Seeds books are so far among the best LitRPG books I have read, atlas among the LitRPG book that goes all-in with the game mechanic.
Richter's story is captivating, funny, and a little addictive. I feel like I'm playing the adventure I'm reading and it's always interesting when Richter levels up or finds new loot.
The only thing I hate about this series is the author, he has been attempting to trademark the LitRPG genre. He's a greedy bastard, but his books are good.
Visit titlefindr for more recommendations like "The Land: Founding".
Street Cultivation (Street Cultivation #1) by Sarah Lin

Rick is a young fighter. To support himself and his sister he is working as a sparring partner at a local gym. Helping people strengthen their cores in exchange for some meager coin.
He does not dream of becoming an all-powerful immortal cultivator. But he wants to be more than just a human punching bag.
The main reason Rick works as a human punching bag is for his sister. She has a deadly disease that is costly to keep at bay. Working at the gym is the only way Rick sees that can earn enough to pay for her medical needs.
Getting the treatment for her deadly spiritual disease is not easy. And being born by poor parents that have left them by themselves surrounded by scavenging relatives makes this a daunting task.
It does not help that they live in a world where power makes right. A world controlled by powerful corporations and modernized martial arts sects. A world where those at the bottom of society often find themselves at mercy by those higher up in the power chain.
Is Street Cultivation good?
Street Cultivation is a good and interesting twist on the LitRPG genre. It mixes in both elements from the Wuxia genre and cyberpunk elements.
It's a good story that also contains slice-of-life elements. It's more than just cultivation and level-ups.
Street Cultivation is a good book series that is worth checking out.
Visit titlefindr for more recommendations like "Street Cultivation".
Ritualist (Completionist Chronicles #1) by Dakota Krout

Joe is an army medic that had an accident at work and has become a quadriplegic with no chance of getting healthy again. When he is given the option to permanently transition his consciousness into a virtual world, a game, he takes it.
When he enters the game he is given the option of picking a special class, a ritualist. Its a class with huge potential, but it also has the drawback that if anyone discovers his class, he will be hunted down.
Is Completionist Chronicles good?
The Ritualist (Completionist Chronicles) is among the best LitRPG books I have read so far.
Joe does not have a typical fighting class, and he is not turned into aMary Sue character. The story is interesting, and I love the game elements and character leveling in this book.
Visit titlefindr for more recommendations like "Ritualist".
Rogue Dungeon: A litRPG Adventure (The Rogue Dungeon #1) by James A. Hunter

Roark von Graf is a hedge mage, lesser noble, and a freedom fighter. When a desperate plan to unseat the Tyrant King fails, Roark finds himself in a strange and dire situation.
Roark escapes in a strange portal that sends him into an ultra-immersive fantasy video game called Hearthworld.
He can't log out, his magic is acting strangely, and he is no longer human.
Roark is now a low-level troll.
He has to guard the first level of a dungeon from players wanting to go dungeon crawling.
But if that was not enough. Roark stole something precious from the Tyrant King, something valuable enough that he uses his magic to send underlings into the game to hunt down Roark.
Can Roark become powerful enough to survive and get back to his world?
Rogue Dungeon is a mix of LitRPG and Dungeon Core. And its a collaboration between two good authors.
Visit titlefindr for more recommendations like "Rogue Dungeon: A litRPG Adventure".