Eureka is a small hidden town populated by America's brightest scientists. They work cutting edge inventions and discoveries. Sadly for them, but funny for us, in their enthusiasm they tend to be forgetful about the safety surrounding their projects, which usually leads unnatural and hilarious chaos! Sheriff Jack Carter and his daughter accidentally stumbles upon Eureka, and Jack ends up being hired as the new sheriff in town. He got more than he bargained for when he has to deal with all the quirky geniuses living in Eureka and their crazy experiments.
Visit titlefindr for more recommendations like "Eureka".
TV-Shows like Eureka
Books like Eureka
Storm Front (The Dresden Files #1) by Jim Butcher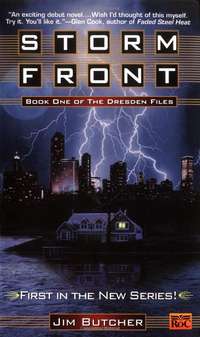 Harry Dresden, a Chicago bound professional wizard, and the only one with an ad in the yellow pages. Business is sadly dreadful, so he jumps on it when the local police bring him in as a consultant on a strange double murder.
Is Storm Front good?
The Dresden Files is a must read for anyone with the slightest interest in this gangrene.
Why is Storm Front recommended?
Hmm.. I cant remember why I thought they belong together. I had some reason in mind when I linked them together, but i cant for the life of me remember why. I`l leave it in place, and see of anyone else agrees or disagrees with me on this one.
Visit titlefindr for more recommendations like "Storm Front".
Tinker (Elfhome #1) by Wen Spencer

Tinker is an 18-year-old girl tech genius living in near future Pittsburgh. Pittsburgh has been transported to another dimension that is populated by elfs and magical beings, and it is only transported back a short time a few times every year. Tinker and her owns a scrapyard and do some tinkering with gadgets of her own designs at her spare time. One day she is she is dragged into elven troubles when she rescues a elven noble that are being chased by wargs into her scrapyard. Tinker finds herself taking on the Elven court, the NSA, the Elven Interdimensional Agency, technology smugglers.
Is Tinker good?
Tinker is the first book in the Elfhome series. Its an paranormal/urban fantasy series, and it`s really good. This series has full of witty comments and intelligent plot-lines. It`s a must read if you like this genre.
Visit titlefindr for more recommendations like "Tinker".
Anime like Eureka
Steins;Gate

The eccentric mad scientist Okabe, and his colleagues have banded together to form the "Future Gadget Research Laboratory". They discover that their Phone Microwave, which transforms bananas into oozing green gel, can also send text messages to the past. And the words they send can affect the flow of time and have unforeseen, far-reaching consequences.
Is Steins;Gate good?
Steins;Gate is one of the better animes that is ever created. It`s an must watch anime for all anime fans out there, even people that generally do not like animes might like this one.
Visit titlefindr for more recommendations like "Steins;Gate".